Food Yogi Schedule for December
Food Yogi Schedule for December
I will be attending the following events and giving workshops the next week. If you would like to attend, here are the links to register:
Dec 4 – Energise your life
Energise Your Life – Renee Poindexter (Social Entrepreneur and Life Coach) 6 – 8.30 Bethesda, MD
REGISTER
---
Dec 5 – Numerology Workshop
Numerology workshop 6.45 – 9pm Buddha B Yoga Studio in DC
Students will learn about the mystical quality of numbers and how they impact every aspect of our lives. Numerology is the study of numbers and the occult manner in which they reflect certain aptitudes and character tendencies. The sum of the numbers in your birth date and the value derived from the letters in your name provide an insight into your personality and karma. Your unique set of numbers combine to show a great deal about your character, purpose in life, what motivates you, and where your talents lie. Numerology can also be used to determine the best time for major moves and activities in life, like when to invest, when to marry, when to travel, when to change jobs, when to consolidate and stabilize, or when to expand or relocate. Students of this workshop will go away with a clear understanding of the nature of each of the numbers and how to interpret them, as well as basic knowledge of yantras and their use. FIRST 10 to sign up get a FREE copy of my book, The 5 Noble Truths.
REGISTER
Dec 6 – Fundraising Dinner for FFL
Fundraising Dinner  7 – 9 pm Arlington, VA at Aman's house (Contact Aman)
---
Dec 7 – Raw Vegan Desserts
Food Yoga Raw Vegan Desserts workshop 3-6 pm Art of Living Centre in DC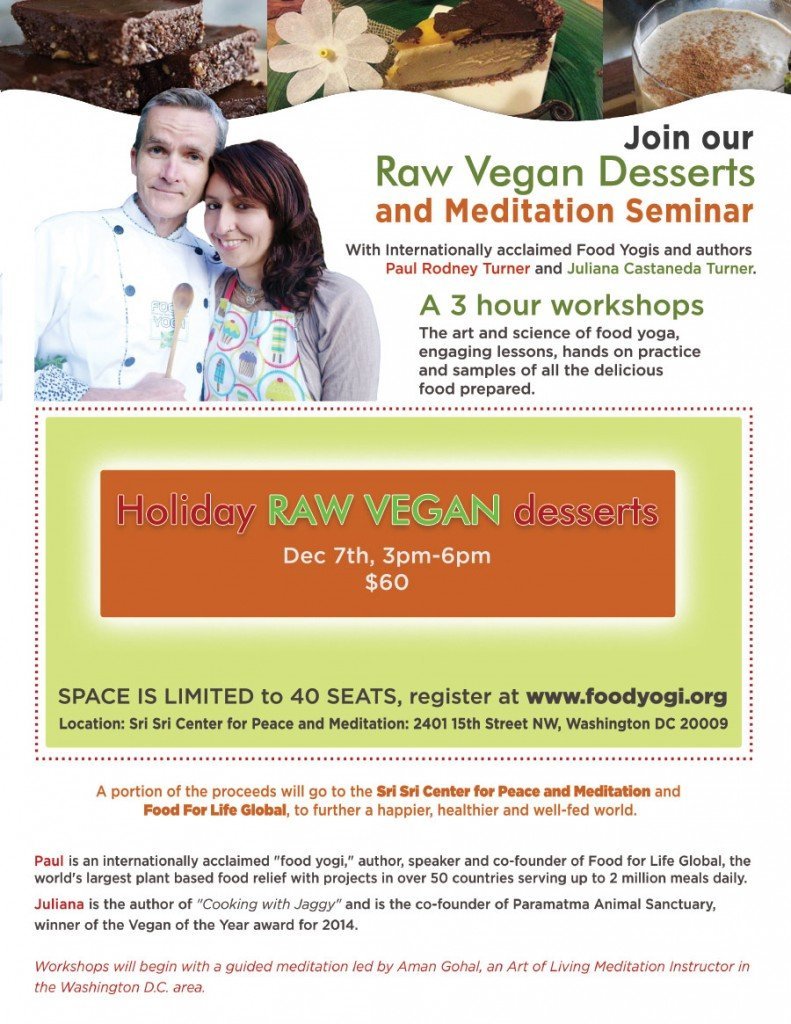 REGISTER
---
Dec 10
Fundraising Dinner 7 – 9pm Laurel, MD at Hakim's home
REGISTER
Please follow and like us: