New Book: The 7 Maxims for Soul Happiness
New Book: The 7 Maxims for Soul Happiness
Unlock the keys to a more fulfilling life with help from 'The 7 Maxims of Soul Happiness'
New book by Paul Rodney Turner teaches readers how to unleash their inner bliss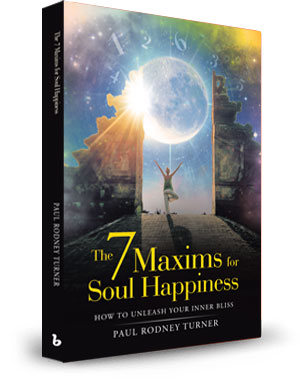 GAITHERSBURG, Md. – According to former monk and the "Food Yogi" Paul Rodney Turner, the state of happiness is in trouble; with many unable to find some form of happiness, people go through life sad, exasperated and even suicidal. In "The 7 Maxims for Soul Happiness: How to Unleash Your Inner Bliss" (published by Balboa Press), Turner shares insights into living a more blissful life.
Filled with a plethora of tips, the book features pragmatic spiritual solutions intended to nurture a wayward spirit. Turner explains that happiness is the natural state of being. Most discontentment stems from a person's misidentification with their physical form. "We are programmed to look for happiness in all the wrong place," says Turner.
He adds, "Everyone wants to be happy but most of us are looking for it in the wrong place. In my new book, I outline some concepts that will shed light on our true potential as spiritual beings, from where true happiness resides."
For a complete list of books authored by Turner, visit his Amazon Author page.
"The 7 Maxims for Soul Happiness"
By Paul Rodney Turner
Softcover | 6 x 9 in | 156 pages | ISBN 9781982222451
E-Book | 156 pages | ISBN 9781982222468
Available at Amazon and Barnes & Noble
[button_3 text="download-now.png" align="center" href="http://paulrodneyturner.com/7-maxims-of-soul-happiness"/]
About the Author
Australian-born Paul Rodney Turner, also known as the "Food Yogi," was a celibate monk for 14 years from age 19-33. He lived a simple life, including sleeping on the floor without a pillow, taking cold showers, rising at 3:30 am every morning, meditating for 2 hours and studying the ancient Vedic literature of India. Turner is a vegan chef, social entrepreneur, public speaker, numerologist, holistic life coach, spiritual guide and the international director of Food for Life Global, the world's largest food relief that serves up to 2 million plant-based meals daily. He currently lives in the Andes Mountains of Colombia with his wife and son on their animal sanctuary. Get a free sample here
Please follow and like us: